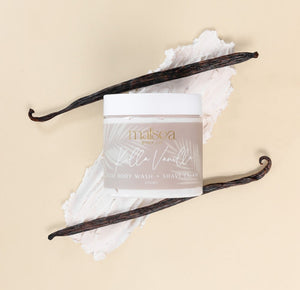 SCENT: Beautiful Vanilla 
Killa Vanilla Is Not Your Ordinary!  Its rich and decadent like a bowl of french vanilla ice cream with pure sweet vanillin!  The wash will turn a beautiful caramel color overtime from the REAL vanilla pod extract. Contains No Nasties!
Our Whipped Body Wash is soapless & so luxurious and moisturizing on your skin. Its creamy texture will leave your skin cleansed, soft, nourished and hydrated.
Whipped Body Wash is so versatile you can use it in the shower, shaving your face, legs or just washing your hands. Guys....this is fantastic to do a wet shave with! Forget all the chemicals in your shaving cream and you will smell delicious.
Pair it with our Malsea Vanilla Body Balm for the most beautiful soft, hydrated skin and of course you will smell absolutely divine
Use me - Best used daily for cleansed, nourished and hydrated skin. Just scoop a teaspoon amount of product up with your fingertips and lather up as an in shower body wash, spread across desired areas for a silky smooth shave, wash your hands. or use on a body brush, loofah or sponge for a bubblier cleansing experience
Store in a cool place to avoid melting and avoid direct contact with water. For fresh aromas use within 3 months.
Full Ingredient List - Vegetable Glycerin, Sorbitol, Sodium Cocoyl Isethionate, Disodium Lauryl Sulfosuccinate, Sodium Chloride, Phenoxyethanol, Tetrasodium EDTA, Purified Water, Potassium Hydroxide, Coconut Oil, Olive Oil, Oleic Acid, Organic Sweet Almond Oil, Vitamin E, Natural Fragrance oils.