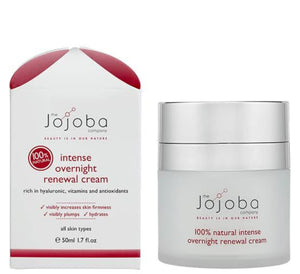 A restorative, luxurious cream with concentrated powerful natural active ingredients and jojoba to encourage skin renewal. Potent antioxidants including Australian native crown of gold, green tea, argan oil, and buriti oil work together to increase skin firmness and combat the visible signs of aging. Hyaluronic acid, marshmallow extract and beta glucan nourish, hydrate and plump skin while nurturing collagen production and cell regeneration for visibly younger looking skin.
For All Skin Types / Men + Women
With Hyaluronic Acid & Crown Of Gold

- visibly increases skin firmness
- plumps & hydrates
- repairs & regenerates
A hydrating and firming night cream rich in buriti oil and marshmallow extract that will help prevent fine lines and restore skin overnight.
Why Jojoba Based Skincare?
Jojoba is not an oil but a liquid wax ester that is the closest botanical match to our skin's natural oil. It is able to carry the active natural ingredients within each of our products deep into the skin which is why jojoba is at the heart of our entire skincare range.
Key Ingredients: 
- jojoba

- hyaluronic acid
- crown of gold
- buriti oil
- marshmallow extract
- argan oil