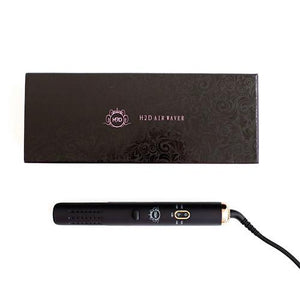 The H2D Air Waver is the latest styling tool to join the H2D Australia Collection.  Powered by air this innovative styling tool creates effortless waves and curls.
Create fast curls and waves at 140c with cold air, which helps eliminate excess heat damage to hair.
A regular curler needs at least 170c+ to create a long lasting curl.
Safety is paramount with the new H2D Air Waver, the outside temperature of the waver is 40-45c, which is a no burn risk.
We are HUGE fans of this product....everyone needs this little tool in their life x
Features:
• 5 Temperature settings starting at 140c all the way to 220c
• Automatic shutdown (30 minutes)
• Ceramic plates
• Cools down whilst in use
• Air intake whilst in use
• Lightweight
• 360 degree swivel cord
• Comes in a gorgeous black box for storage and makes a beautiful gift
How To Use:
Use on dry hair only!
Pick up section of hair that you desire to curl or straighten. The smaller the section the tighter the curl.
Push button to open air waver, pop hair between the Ceramic plates. Angling the tool downwards, slowly rotate it 360° away off your face and slowly guiding down your hair section to the ends of hair. Leave and do another section.
Once you get the hang of it ....you are a way! So quick and easy