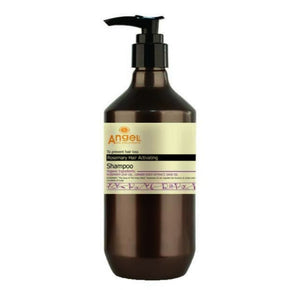 Designed for Men + Women.
Angel Rosemary preventative hair loss range is specifically designed for fragile or thinning hair concerns where growth rate has reduced or the hair has fallen. Or you have naturally fine hair and want to keep your scalp & hair at it's most optimum healthiest, promoting hair growth.
Formulated with Rosemary Leaf Oil, Ginger Root Extract and Sage Oil to stimulate hair growth and improve microcirculation of the scalp enhancing the penetrating ability of sufficient nutrients to improve follicle activity. Rosemary Hair Activating lowers DHT (Dihydrotestosterone) to improve hair growth, improve the hairs ability to resist friction, tones the scalp limiting sebum production and reduces inflammation. 
Suitable for all textures and lengths with hair thinning or hair fall concerns. 
DIRECTIONS: Apply to damp hair and scalp, massage to gently lather, rinse and repeat if necessary.
No Sodium Lauryl Sulfate (SLS)
No Paraffin Oil or Vaseline
No Propylene Glycol
No Cocamide Dea
No Animal Testing (Vegan)
No Paraben
GPA and FDA Certified
Organic Natural Ingredients