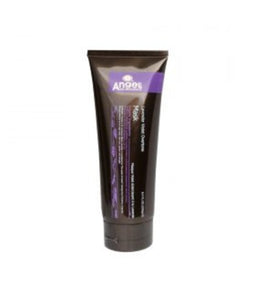 NEW PACKAGING.
Helps remove unwanted yellow and brassy tones from blonde hair. Leaves hair with a natural healthy shine.
Designed for blonde hair. But also great on brunettes, where caramel colours are a tad warm/brassy. Leave on for 1 minute for a subtle effect/reduce brassy tones or longer if you are wanting a violet tone to the hair. Has a VERY strong violet pigment, so start of with less time and build up. Of course, if you are wanting your blonde hair a violet tone, leave on longer until you achieve your desired colour. It will grab & go very bright on blonde hair that doesnt have much gold pigment in it! 
Formulated using natural ingredients Helichrysum, Verbena, Orange Flower, Lavender, Rosemary, Green Tea, Rose and Grapefruit, all sourced from the En Provence area in the south of France.
Does not contain Sodium Laureth, Laurel Sulphate, Parabens, Mineral Oil, Paraffin Oil or Propylene Glycol. 100% Cruelty free.
Directions:
Shampoo hair first, then apply, leave on desired time, then rinse well.
Use once a week or for desired result.
Leaves hair feeling beautiful & soft, with a gorgeous shine!