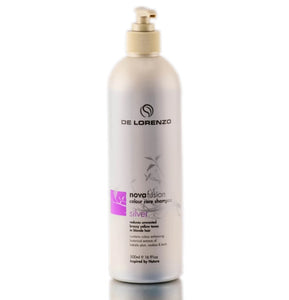 A shampoo designed to reduce and neutralize unwanted brassy tones and helps eliminate dull, yellow tones in blonde/grey hair. 
Enhances and adds brightness to grey, white or blonde hair. For chemically treated or natural hair.
Created with UV inhibitors and natural plant extracts. Helps improve the condition of your hair, leaving it brilliantly healthy and shiny.
Directions
Use after you have shampooed with your normal shampoo. Then apply a generous amount and leave on approx 5 mins or as directed. Rinse thoroughly, then apply conditioner of choice.
We love this product! and is one of our favourite blonding/purple shampoos.
Use everytime you wash your hair or when you feel your hair is producing to much gold. Enjoy x