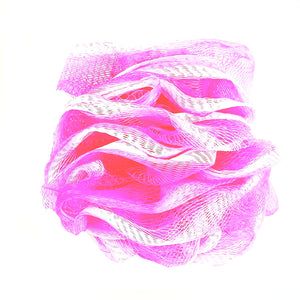 Lather up in the shower or bath with this luxe puff.
Works best with gel or body wash. Perfect with Lalicious Cleansing Shower Gel
- Comes with a hanging loop with suction. So you can hang in bathroom in order to allow it to dry completely after use. 
- Material: Nylon
- Colour: Hot Pink 
- Size: 12cm x 12cm
Wash before use. For the body...not face
How to look after your puff & keep it hygienic...
Rinse puff thoroughly after each wash and let it dry away from the moist environment of the shower if possible. The hot sun/sunny place with air movement is the preferable way to keep puff sanitized.
DO NOT BLEACH! 
Replace every 4 weeks