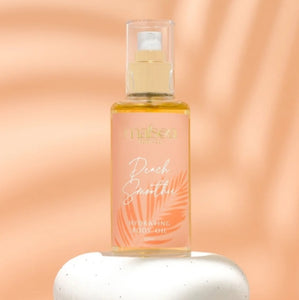 SCENT: Sweet Peaches 
Our Hydrating Body Oil is thoughtfully designed to offer a delicate balance of enriching oils that quickly absorb into your skin, leaving it moisturized, without a trace of greasiness.
 Its unique lightweight texture ensures that you enjoy the benefits of deep hydration without the weight, allowing you to move through your day with a newfound radiance.

LUXE BENEFITS

Macadamia Oil - Its healing and restoring, and ultra moisturizing.

Avocado Oil - Increases collagen and fights aging, rich in vitamins and reduces pigmentation, scarring and leaves skin soft.

Sunflower Oil - Rich in vitamin e, an important antioxidant for skin protection.
How To Use Me:
Spritz our hydrating body oil straight on to freshly washed and dried skin and massage in.  Dry's nice and light with no oily residue.

Apply in shower and use as a shave oil.  Pat dry with towel - no need to moisturize.

However, If you have extra dry skin for extra hydration, we recommend applying Killa Vanilla Body Balm over top of the oil once dried. Use liberally when required.

Good bye dry skin!

 

 Ingredients:

Coco Caprylate, Macadamia Oil, Avocado Oil, Sunflower Oil, Natural Fragrance oil

Store Me: In a cool dry place, avoid exposure to heat