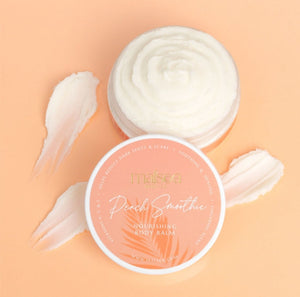 SCENT: Sweet Peaches
Made In New Zealand With Natural Ingredients. No Nasties.
Malsea Body Balm is like no other! Luxuriously thick, exquisitely creamy, and profoundly rich, our balm redefines the essence of skincare. It's an immaculate fusion of 100% Virgin Coconut oil, sumptuous Mango Butter, and velvety Shea Butter, all meticulously combined to bestow your skin with an unrivaled dose of adoration. For those who crave ultimate hydration experiences, Malsea Body Balm stands apart in a league of its own. 
No Water, No Preservatives our balm packs a hydration punch!  
LUXE BENEFITS

Mango Butter - The Vitamin C in mango butter gives the skin a boost by brighting while the vitamin A increases the skins youthful appearance.  Mango butter is very soothing and healing.
Shea Butter - Containing Vitamin A, E and F Shea conditions, tones and soothes, helps reduce dark spots and scars.
Organic Coconut Oil - 100% organic extra virgin, our coconut oil is cold pressed from fresh picked dried coconut flesh.  Deeply Conditions and Hydrates.
Ingredients:

Shea Butter, Mango butter, Coconut oil, Arrowroot Powder, Natural Fragrance Oil

Use Me:

Scoop desired amount and massage all over your body daily. Perfect for dry areas such as, elbows, feet and ideal as a silky smooth finish to freshly shaved legs!

Store Me:

In a cool dry place, never in direct sunlight or in a room with heat as this can melt the butters and oils. Replace lid securely