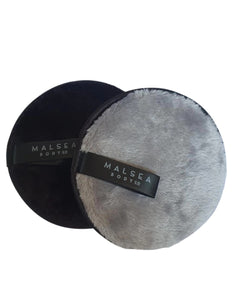 Contains x2 Black Pads (sorry no grey)
Malsea Makeup Remover/Cleansing Pads are made up of microfibers which actually penetrates deep into your pores to remove makeup and dirt. The best part is that all you need is water! 
Our special fiber technology does the rest. This will leave your skin looking and feeling soft, dewy, fresh and clean. 
Use - Machine wash before use.  They are super easy to use, simply wet the pad with water, squeeze and then wipe away your makeup. For mascara its best to leave the pad on the eye for a few seconds and then wipe away. These pads are large to make quick work in taking your makeup off. You can also fold the pads to get underneath the eyes and around the curves of your face. The best part is that since they only use water, your skin is left feeling fresh, dewy and hydrated, Use your Cleanser afterwards, save on your cleanser - winning!
Each pad can be re-used again and again  Just imagine saving all those wipes away from our landfills and all the money you will save. 

Wash -  Cleaning your pads is super easy, just add some soap and wash the pad off. The name tag on the pad doubles up as a hanger to dry your pads. They will be nice and dry and fresh for your next use. But since you get 2 pads, you will always have a back up when needed. 
We do recommend washing your pads in the laundry every week just to make sure they get a good deep clean. 
SKU: 10000-38