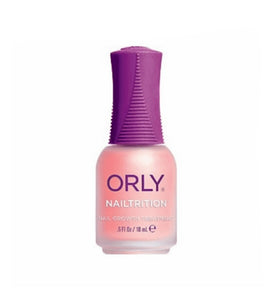 The Ultimate Nail Treatment!
14 day treatment to promote healthy nail growth.
Great for nails damaged by gels or acrylics.

Subtle sheer pink shimmer to mask imperfections.

For best results, use alone and follow instructions for daily application
Growth Support For Damaged Nails.
Lengthen, Strengthen And Improve Peeling & Splitting Nails.
Treats extremely damaged, splitting, peeling and slow growing nails. Stimulates nail growth.
Perfect on natural nails or nails that have been destroyed or coming out of gels or acrylics. Repairs damage from acrylic nails, strengthens weak and peeling nails while promoting nail growth.
Natural pink colour with light shimmers. Leaves a really healthy tint on your nails with incredible shine. Your nails look super healthy.
Contains:
- Collagen
- Wheat Protein
- Keratin
- Bamboo Extract
Directions:
Week 1  Apply 1-2 coats daily. Remove at the end of week.
Week 2  Repeat.
Repeat 2wk program as necessary,  waiting one week before reapplication. Use with ORLY CUTICLE OIL for optimum results.
We are in love with this product!
Made in USA