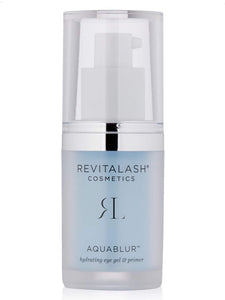 Nourishing Eye Gel And Primer.
Light weight in texture, just absorbs in to the skin, leaving the eye area smoother & blurring imperfections. Makeup glides on over top, reducing fine lines. Doesn't go greasy or feel like makeup is sitting in wrinkles.
Can be used with makeup or just worn naturally.
Designed for all ages. To help prevent, hydrate & disguise fine lines. 
Fantastic for Men & Women.
♡ We are eye cream|gel & serum addicts!!! Finally we have found this beauty, that can be worn during the day under your makeup and its doesn't slide off! We love the fact that one product can hydrate & blur imperfections 
Directions 
Cleanse your skin, apply your Revitalash Eyelash Conditioner & Brow Conditioner along lash line & brow line. Gently dot under your eye & cover your eyelid with AQUABLUR, don't drag the skin, dot gently. Apply your face moisturiser over the rest of the face.
☆TIP: Always allow a few minutes for moisturiser's to absorb in to the skin before applying makeup. 1 pump of AQUABLUR does both eye's!! Of course, you can use more.....but a little really does go a long way!  x