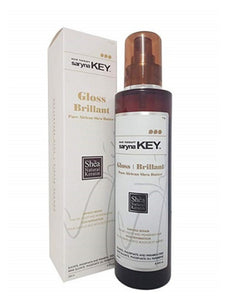 You need this in your life!!!! Totally amazing shine and conditioning...
This is one of our top selling products. 
Suits all hair types. Reduces Frizz!
Personally I wouldn't recommend it for oily, limp hair.
Fantastic on long hair, if you dont like the feel of products in your hair, you will love this. Leaves the hair so soft and silky. Great to spray on before straightening/tonging hair and afterwards. You can also spray it on to your hands for finer detailing and not over working the hair. 
Damage repair gloss spray is a unique product that is used as a treatment for normal to dry hair. This product contains all the benefits of Shea butter including: vitamins, amino acids, keratin and proteins that safeguard hair and keep it well hydrated. The UV filters are used to protect the hair from the sun and climate damage. The Gloss Spray is a lightweight formula used to enhance shine.