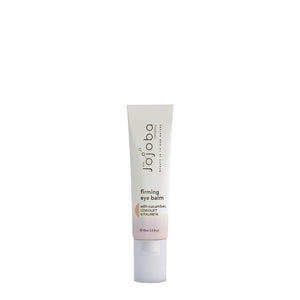 with cucumber, COBIOLIFT & ITALINE®A
- lifts & firms
- decreases puffiness
- visibly reduces dark circles
Using quinoa & apple extract, this eye balm is clinically proven to smooth, brighten and re-hydrate, while immediately lifting the delicate skin around the eye. 
proven results:
- lifting effect in 30 minutes*
- visible reduction of dark circles & eye bags**
why jojoba based skincare?
Jojoba is not an oil but a liquid wax ester that is the closest botanical match to our skin's natural oil. It is able to carry the active natural ingredients within each of our products deep into the skin which is why jojoba is at the heart of our entire skincare range.
disclaimers: *claims based on clinical tests using COBIOLIFT on 15 people between 35-50 years, 30 minutes after application.**claims based on clinical tests using ITALINE®A on 20 women between 25-60 years, once daily for 28 days.
Perfect for daily use on Men and Women.
Suitable for all skin types

Directions: After cleansing, use your ring finger to apply a small amount around the eye area. Tap gently into the skin.
MADE IN AUSTRALIA