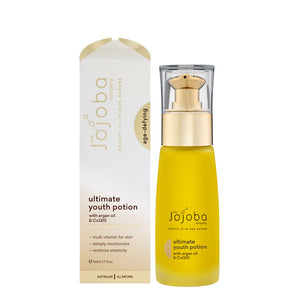 Suitable For Men & Women.
With L22® & CoQ10
Key benefits:
Hydrates significantly better than other oils by up to 25% in one week*
Visibly increases skin elasticity and firmness by up to 20% in one week*
The visible results you'd expect from a serum, now in our most loved facial oil.
Using the full spectrum of vitamins, antioxidants and essential omegas from pure jojoba and plant oils, this facial oil is enriched with the patented L22® formula which mimics the skin lipid profile of a healthy 22 year old to deeply hydrate, firm and restore the complexion. Putting back what age takes away.
Our 'Youth Potion' is the ultimate multi-vitamin for skin.
Naturally rich in vitamins A, B, C, D, E & F. Enjoy the delicate scent of linden blossom while Jojoba works deep in the skin, smoothing the appearance of wrinkles and fine lines.
For an intense face treatment at night, apply before night moisturiser. Allow to dry in to skin before applying moisturiser.
Skin texture is visibly enhanced and radiant.
100% Natural.
Suitable for all skin types