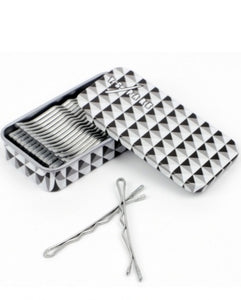 High End Professional Hair Tools By Hair Designers For Hair Designers ▪︎ Y.S PARK
Everything you need in the palm of your hand!
Set of high quality hair pins for hair up in compact tin case.
Great addition to your kit or hand bag as an emergency spare pin set.
Crafted in Japan by cult brand YS PARK.
Famous Worldwide & loved by Professional Hairdressers.
This European style pin is designed with 3 wrinkle waves. Which grip the hair with a medium hold & makes it harder for hair to slip out. Fantastic on fine, medium and thick Hair.
 Contains:
▪︎ 30 Pieces ▪︎ 50mm length  ▪︎Wrinkle wave ▪︎ SILVER